How To Dress To Look Your Best
How can I dress to look slimmer?
How can I hide my fat?
Can wearing the right style, color, and size of clothing make a difference?
Let's take a look at a few basics that can help us to dress our best:
1. Consider your body shape. Are you apple or pear shaped? Do you carry your weight in your upper body (bust area), your lower body (hips, stomach, and waist), or is your weight proportional?

Apple shaped individuals carry most of their fat around their middle, while pear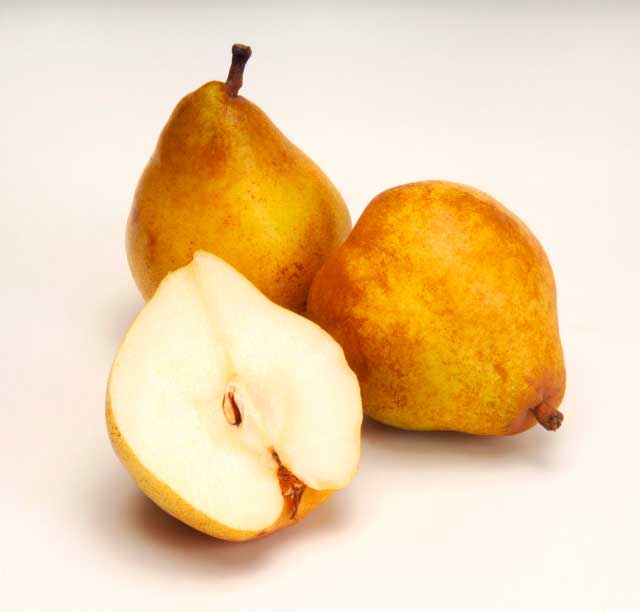 shaped persons carry most of their fat around their hips, buttocks and thighs. Note: The area of your body that isn't proportional to the rest of your body is the area that you will want to address with corrective clothing. Our goal: Dress to accentuate our best features and minimize our less attractive areas.
2. Create Balance.Take a look at your top half and bottom half again. If your top half is much larger than your bottom half, you can create balance by choosing styles that minimize your top half while accentuating your bottom half. Makes sense, right?
On the other hand, if your bottom half is heavier than your top half, look for clothes that bring the eye upward. Think great necklines and bright colors near the face, and dark colors on the bottom. Your goal should be to see yourself as symmetrical between the top and bottom so no one area jumps out.
In other words, accentuate the positive; minimize the negative. Draw attention to the positive! Here's an easy equation to remember:
Top Larger than Bottom
Accentuate Bottom Half
Minimize Top Half
Bottom Larger than Top
Accentuate Top Half
Minimize Bottom Half

General Tips.Here are some general tips to help you dress to accentuate your positive:
Wear the Right Size. Well fitting clothes don't cling and don't hide, but gently curve your shape. The right size will have about a finger's width of space between your skin and the garment. More than that and you look baggy, less than that, and you look like you are squeezing into too small a size. Both make you look heavier. Learn to ignore tag sizes and get what looks best on your body.
Wear the Right Style.Be simple! Avoid accents such as big pockets, ruffles, folds, and ribbons as they just add volume. If you still want to wear such accents, make sure they are small in most areas, are only in areas that you want to highlight, and tend to be vertical rather than horizontal.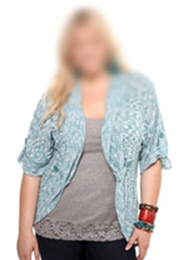 Choose the Right Color. Color is important. Dark colors tend to make you look thinner, while light colors enlarge your look. Browns, navy, olive green, and purple, are good color choices for fuller figures. If you want to wear bright colors, then try to use monochromatic colors (colors of the same family of varying tints and shades, such as all blues, greens, or browns).
Wear Shaping Underwear. For girls, this is a great way to hide weight. Such pieces of clothing can help you hide problematic hips, butt, belly, or breast areas.
Choose Quality Fabrics.Many materials made from natural fibers drape the body, hide love handles and belly fat. Some hard materials, such as denim, or solid fabrics, can also hide small defects. Avoid heavy, coarse fabrics as they tend to add volume. Shiny tight fitting materials such as Lycra and Spandex, should also be avoided.
Wear the Right Shoes. Shoes can add balance to your body and make you look slimmer. Try a chunky heel or high heel when you dress up to look thinner. Avoid ankle straps, Mary Jane straps, and square-toe shoes, all of which can make your feet look squatty and your legs shorter. Thin strapped sandals (particularly if your foot is chubby or wide) and tiny or thin kitten heels should also be avoided.
For more general information: Check out Clothing Tips For Boys & Girls.
Particular Problem Area Tips:
Your Bottom Area Is Heavier Than Your Top Half
You want to minimize the bottom area. Here are some specific tips:
Emphasize Your Shoulders, Neckline and Upper Body.
- Try using accessories to emphasize your head, neck and shoulders. A colorful scarf or large necklace around your neck can draw the eye upward and away from your large hips.
- Wear a lighter or brighter color on top. A brightly colored or printed blouse draws the eye upper to your upper body. A top with small shoulder pads can also give your hips balance.
- Choose a C-scoop neck or V-neck top and a narrow silhouette on the bottom, such as a straight skirt or slim-cut pants..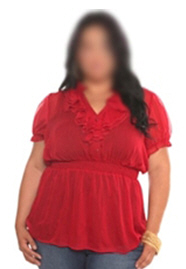 Use Color to De-Emphasize Your Bottom Half.
- Wear a darker color pant or skirt that's not too form fitting. Dark colors cause the hips to look smaller and less prominent.
Choose the Right Fabric for Downplaying Wide Hips.
- The right fabric can downplay your hips. Avoid fabrics that have a strong pattern such as horizontal stripes or loud bright graphics, as well as fabrics that are billowy.
- Lightweight wools and linens are good all around fabric choices. Avoid stiff, hard, and heavy fabrics, as well as clingy, Spandex fabrics as these tend to draw attention. Fabrics that drape the body and softly follow your curves are best. Your goal is to feature your overall body shape, not every body part.
Choose the Most Flattering Pant and Skirt Styles.
- To hide large hips, choose looser fitting pants with a moderate leg width. Narrow leg widths accentuate the width of your hips and wide widths make your legs appear shorter.
- Choose a sleek, straight line with front slit pockets or no pockets, and elastic in the back.
- Stay away from high waisted pants or pants with cuffs. To minimize your buttocks and tummy, look for pants cut at, or slightly below, your natural waist. The general rule: The higher the waist, the larger your butt will look.
- The hem of your pants should almost touch the floor, with a slight break in front at the top of the shoe. Pants that end just below the ankle can add pounds to your appearance.
- The ideal skirt for large hips is an a-line cut that starts at the waist and widens towards the hemline. This style emphasizes the waistline while disguising large hips.
- To hide a large tummy, wear an over-blouse in a slim-fitting knit or well-tailored woven fabric. Make sure it's no longer than hip length.
Choose the Right Length for Skirts.
- A length just below the knee is the most flattering.
Choose the Cut Carefully.
- To avoid emphasis to your stomach, don't wear tight shirts or jackets. Choose a tunic that will give the appearance of raising the shoulders and minimizing your hips. The tunic should not end at the widest point of the hip.
Here are some short videos that discuss these techniques:
How to Hide a Wide Hip
How to Hide a Large Stomach
Your Top Area Is Bigger Than Your Bottom Half
- If you have broad shoulders and/or a large chest, avoid shoulder pads and any shoulder detail like ruffles, puffs, or trims.
- Boat necks or wide scoop necks should also be avoided. Instead, try a V-neck with a full skirt or wide-leg pants.
- Avoid anything boxy, particularly jackets. Instead, look for semi-fitted styles, such as princess seaming (curved seams that run down the front of the garment from shoulder to waist, or sometimes the entire length of a dress).
How to Dress a Large Bust
By following many of these tips, you can dress with more confidence knowing that you are dressed to accentuate your positive features! Remember, WE ALL HAVE POSITIVE FEATURES!!!
Here's a song to put a smile on your face.
You've got to accentuate the positive
Eliminate the negative
And latch on to the affirmative
Don't mess with Mister In-Between
You've got to spread joy up to the maximum
Bring gloom down to the minimum
Have faith or pandemonium's
Liable to walk upon the scene
(Bing Crosby & Bette Midler)
Smile, it looks good on you!