Meal Two: Baked Chicken & Seasonal Vegetable Salad
Great on a Hot Summer Day! Be a Salad Artist!

Shopping List:
1 cold cooked boneless chicken breast (you can use the second chicken breast in our Baked Chicken Recipe).
4-5 large lettuce leaves (like romaine, it really crunches!)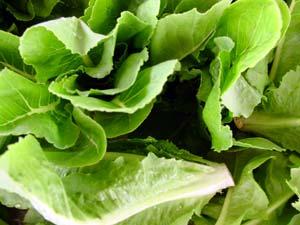 Seasonal vegetables like red & green peppers, cucumbers, tomatoes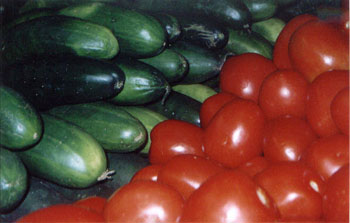 Balsamic vinegar or other low fat dressing
Black pepper
Optional Treat: 3-4 quarters of Artichoke hearts packed in water, 4-5 black olives sliced
Preparation: (Total preparation to serving time 10-15 minutes)
1. Cut one cold cooked chicken breast into cubes.
2. Cut up seasonal vegetables and place them and the chicken cubes on a bed of lettuce. You can slice red and green peppers, cucumbers, tomatoes and whatever vegetables are in season.
3. Sprinkle with balsamic vinegar or other low fat dressing.
Serving Suggestions:
1. Serve with a slice of wheat berry whole grain bread (which can dab up the delicious vinegar dressing).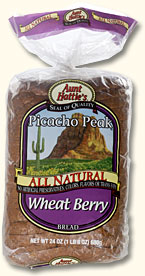 2. Have a piece of fruit for dessert. Yum!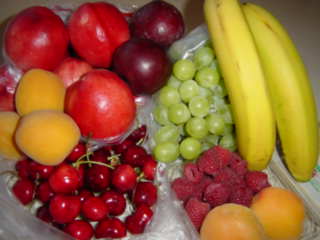 Experience the crunch of the lettuce leaves, taste the sweetness in each bite of red pepper and ripe tomato and the freshness in the fruit covered chicken. Eat slower and take in the flavors of each bite. Try to be more conscious in thinking about the good taste of the healthy food you eat.


Helpful Reminders:
1. By planning ahead, you can create two healthy meals by cooking two chicken breasts at the same time and serving the second chicken breast in a delicious salad another day.
2. Remember when preparing chicken to wash with hot soapy water all areas that the raw chicken comes into contact with well.
3. Removing the skin from the chicken breast is more healthy than chicken with the skin on.
4. Baked or broiled chicken is more healthy and has less calories than fried chicken.
5. For a treat, I sliced some black olives and artichoke hearts in water on top. But remember: 4-5 black olives have about 25 calories and 2 grams of fat plus they have sodium in them so use olives lightly! One serving of artichokes have about 25 calories and 1.5 grams of fat and they have sodium in them as well.
6. One serving (one tablespoon) of Balsamic vinegar has only 15 calories and no fat vs. low fat dressings that have 80-160 calories per serving and 8-17 grams of fat. Balsamic vinegar goes a long way and has a wonderful taste. Try it.

Congratulations on eating healthy!!

Send your comments or suggestions to What's Cookin at:

Click Here to Go Back to School Area