Self Esteem
Do you ever have negative thoughts that you allow in your mind about yourself such as: "I can't do this," "I am not strong enough," or "everything I do is wrong?" Take a few minutes and think about what kind of messages you allow in your mind that are negative about yourself and write them down. Writing the negative thoughts down can help YOU to focus on how YOU see yourself.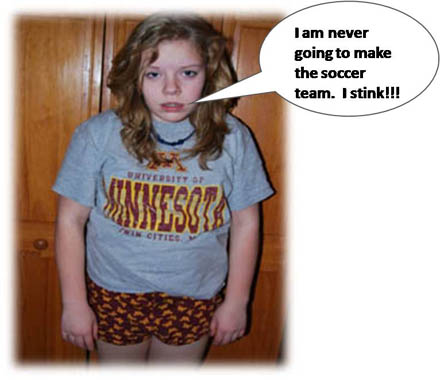 We all have a picture in our mind of who we are, how we look, what we are good at and what our weaknesses might be. This is called our self esteem. Our self-esteem is how much we feel valued, loved, and accepted AND how much we love, value and accept ourselves.
Just because we might have a low self-esteem now, does not mean we will always feel that way. It is common to have a low self esteem when we are growing up, especially in our teens, when we are still trying to figure out who we are and where we fit in. Some of us don't see ourselves as having the qualities we admire. Actually, we probably do have those positive qualities, we just don't allow ourselves to see those qualities because of the way our self image has been trained.
It is also important to remember that we might have unrealistic expectations of who we should be or how we should look. For example, most every young woman you see on television is thin and has absolutely flawless skin. Is this reality? No, it is not.
Here are some ways you can improve your self esteem, which in turn will make you feel more valued, loved and accepted. Try some!
Try to stop thinking negative thoughts about yourself. Focus on the positive aspects of your life and write them down. Each day write down three things that make you happy. If you catch yourself saying or thinking something critical, counter it by saying something positive. You can take back control over that inner voice that puts you down or tells you that you can't do anything.
Set realisitc goals. Ask "what do I want to accomplish?" Make a plan and stick with it. Keep track of your progress.
 

Remember, not one person is perfect. Don't hold yourself back because you might make a mistake. You will miss out on a lot in life. View mistakes as a way to learn.
Recognize what you can change and what you can't. If you have brown eyes and you want blue eyes, start working towards loving yourself the way you are.
Help someone else. Tutor a classmate, help a neighbor clean, volunteer your time to help others. This can increase your self esteem.
Do not be afraid to voice your opinions. Your ideas are very important!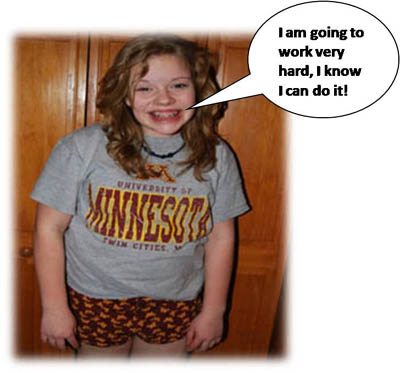 One last idea to think about. Are we expecting the impossible? It is good to have goals but set small goals first so you can accomplish them.
Examples: Instead of dreaming of being a "star" football player, set your sights on improving your game in specific ways. Instead of saying to yourself, "I am going to lose 20 lbs in 2 months," say to yourself "I am going to try and eat better and drink more water the next 5 days".
Think positive! It looks good on you!