Take the Healthy Route Back to School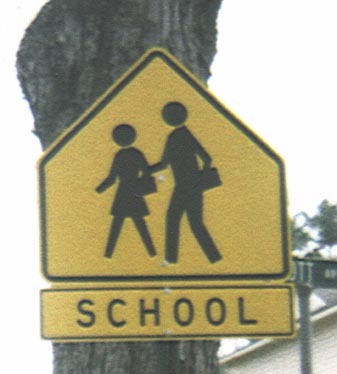 How are you getting to and from school?

If you are getting car rides or driving, you can make small changes that can add up to big weight loss over time.
Walking, biking, using a self-propelled scooter or even rollerblading between school and home can easily become part of your exercise program.
Hereís how to start making this a good habit:
Plan your route
~ Distance: Go to MapQuest and fill in your home address and the name of your school. You can get a good idea of not only how far it is to school, but your best choices for walking or cycling, which may not be the same as the best car routes. Talk over your ideas for routes with your parents if you have more than one choice.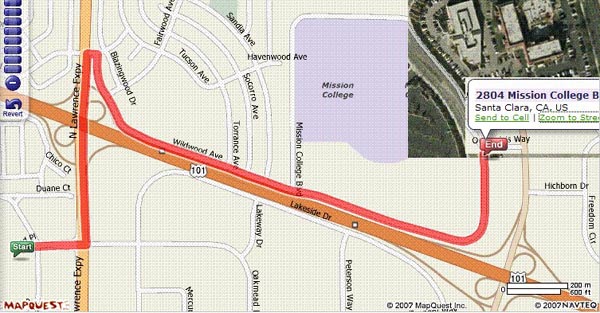 ~ Time: The travel times given by MapQuest are based on driving. If you are unsure how much time it will take to walk, ride your bike, use your scooter or rollerblade to school, then do a trial run so that you know how much time to allow yourself during school days.
Mode of Transportation
~ Walking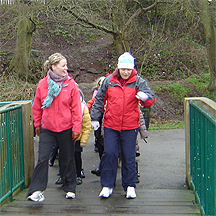 is the simplest form to get places, including school. No special equipment is required except comfortable shoes. Even when streets or sidewalks are icy, donít let this be an excuse to skip walking. Find some shoes or boots that provide good traction when you walk on snow or ice. You can also retrofit almost any outdoor footwear with shoe chains that can be easily slipped on an off as needed. Yaktrax and Stabilicers are two popular brands of shoe snow chains.

~ Cycling is a faster method of transportation and may even be faste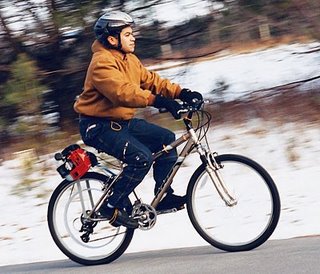 r than cars within certain distances from school. Make sure you have safe streets to travel on, ideally with low traffic or a bike lane. Obey the laws such as cycling with the traffic (not against it) and stopping at all stop signs and lights. Donít forget your helmet and a bike lock! A shower cap slipped over the bike seat while you are in school is quite convenient for keeping your bike seat dry during the day if there is any chance of rain. Believe it or not, there are even studded snow tires available for bikes if you want to ride when the streets are still covered with ice and snow.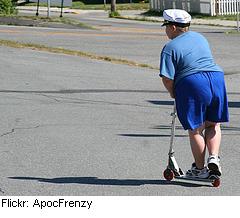 ~Rollerblades & scooters are other options for getting to and from school if you are comfortable with using this sporting equipment. You may only want to consider this option if your school has locker space for you to securely store your rollerblades or a place to lock your scooter. Check to make sure your school doesnít have rules against these items.
~ Walking part way to and from school may yet be another option if you live very far away or you are not comfortable with walking the full distance at first. Plan on you or your parent driving to a certain point from which you walk the rest of the way to school.
To stay safe walking on icy paths, here are some YouTube videos with a cool idea:
http://www.youtube.com/watch?v=0B0RZk4JVDY
http://www.youtube.com/watch?v=vIhnssfUTFE

Visit the Food Bar to get an idea of how far you have to walk to work off certain foods.

Final Note: When this school year is over, donít give up this positive lifestyle change! Carry it over into the next school year, college if you attend, and finally your place of work in your adult years.

Make this a healthy week!
(Click here for past week's tips)