Get to It Goals!

An important part of losing weight is setting goals. Goals can keep you on track. They can keep you motivated. And, they can make you more successful!
Choose your goals wisely! Here are some hints to help you start making weight loss goals for you!
* Make 1 or 2 goals per week.
* Goals should not focus on how much weight you want to lose. You cannot always control that number. Instead, pick goals that focus on how you eat, how you exercise, or how you think about yourself.
* Make sure you CAN make your goals before choosing it. For example, a person can drink water instead of soda everyday. It maybe too hard (and unhealthy) to run 20 miles everyday. Choose goals you believe you can do!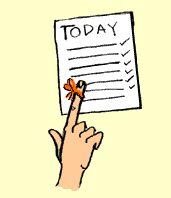 * Keep track of your progress with your goals. This will help keep you focused and motivated!
* Reward yourself after one week of successfully meeting your goal. Some people go to see a movie as a reward. Some people buy new exercise clothes. Pick something you will enjoy. Do not pick food as a reward EVER!
Make this a healthy week!
(Click here for past week's tips)