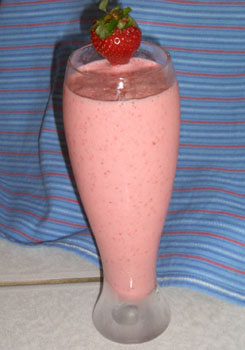 Banana-Strawberry Smoothie
Start to Finish: 5 Minutes
Makes 2 servings
Ingredients: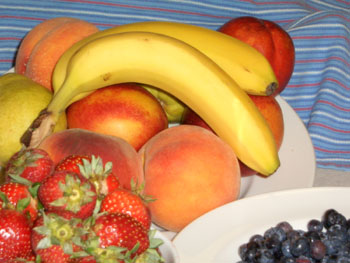 2 ripe bananas
1 cup frozen unsweetened whole strawberries (or fresh strawberries with stems removed put in freezer to freeze)*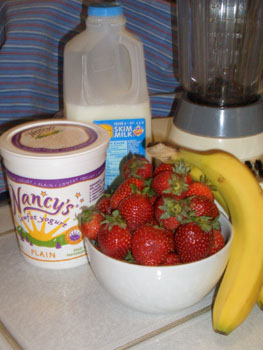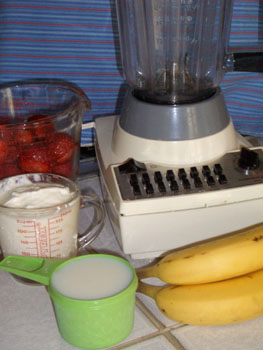 1 cup plain low fat yogurt
3/4 non-fat milk

Directions:
1. Peel bananas. Cut bananas into chunks. Place banana chunks into blender.
2. Add frozen strawberries, yogurt and milk into blender container.
3. Cover blender and blend on high speed about 1 minute or until mixture is smooth.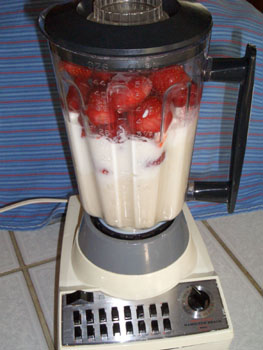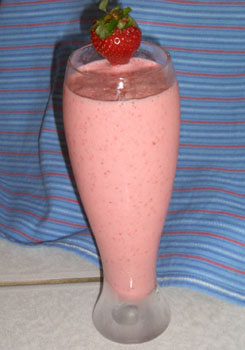 4. Turn off blender.
5. Pour smoothies into 2 glasses. Garnish one glass with a piece of fruit for decoration. Enjoy!
6. Cover one with foil and put in freezer to enjoy another time.


Tips:

1. Wash fresh strawberries, remove stems and put and in container in freezer.
2. * You can use any fresh fruit like blueberries, peaches, nectarines, pears, whatever is in season that you like. Cut up in pieces and put in container in freezer. Freezing the fruit is what makes the smoothie have a thick consistency. The cold, smooth, sweet taste is so refreshing on a warm summer day!
3. Using low fat or non-fat yogurt is lower calorie and tastes great, try it.
4. If you put the glass in the freezer ahead of time, it keeps the drink colder longer. Use a glass, it looks so pretty!
5. Notice how filling this is. Try drinking 1/2 of the one drink, cover, and put back in the freezer for later. Yumm!


Nutrition facts per serving:
calories: 259
total fat: 5g
saturated fat: 3g
cholesterol: 13mg
sodium: 113mg
carbohydrate: 49g
fiber: 3g
protein: 9g

Source: Better Homes & Gardens
To find other great smoothie recipes go to: http://www.bhg.com/home/Smoothie-Recipes.html