Donna's story was provided by her mother:

Donna was born in 1973 into an aboriginal community in Manitoba, Canada.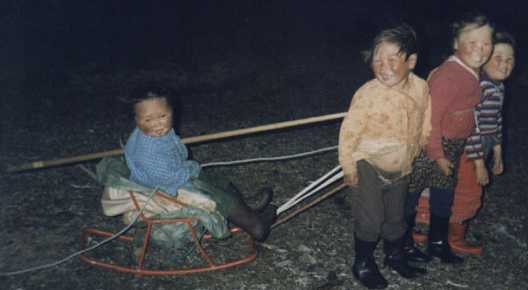 As a child Donna was pretty overweight. By age 9 she weighed 155 pounds and was about 4 and a half feet tall. It was then that Donna developed type 2 diabetes, which is thought to occur from being overweight.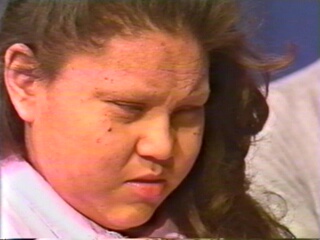 As a teenager Donna unfortunately did not watch her diet very well or take very good care of her diabetes. She was able to lose some weight, but her diabetes did not improve. Her diabetes caused damage to her eyesight, and by age 22 she had become totally blind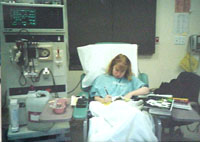 because of it. At the same time she also developed kidney failure and had to go on a kidney dialysis machine, like the one shown in the photo on the right.
Donna got married at age 19, but her first pregnancy was a miscarriage, because of her diabetes. She was finally able to have one baby.
Donna wanted to help other kids avoid the problems that she had with diabetes, so she did a video of her story. To see a video clip of Donna's story, click on her photo at upper left, or click here. If you have a slow Internet connection, or for better quality sound, click here for the sound-only version. Donna died of a heart attack in 1998, at age 25.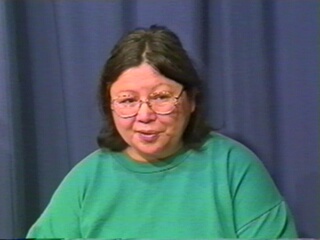 Donna's mother (photo at left) became a nurse and now helps overweight kids to lose weight and avoid getting diabetes. To see a video clip of Donna's mother talking about overweight in kids click on her photo at left or click here, or for the sound-only version click here.
You may order the complete VHS video tape from which these clips were taken by contacting Bertha in Winnipeg, Canada at: 204-975-7721. The price of the video tape is $30 (Canadian), including shipping.