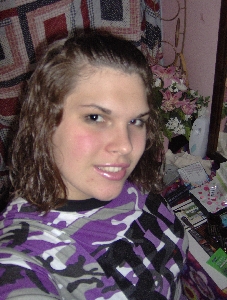 Hello, my name is Meagan, 15, and yes, I am very over weight. I live close to Charleston West Virginia where I attend Healthy Kids. I have been attending since June 2009. Going to the clinic my mommy has learned to cook all over again, I now eat plenty of vegetables and watch my calories. Since that time I have lost 45 pounds, two pant sizes and two almost three shirt sizes. Changing my eating habits has really helped me along. Also, I have total support from my entire family. I am not saying itís all been well and good, I have had my struggles along the way and I have a long way to go to achieve my goal.

When setting goals for yourself be realistic. Do achievable goals for yourself. Donít do like 20 pounds in a month or anything like that. Make them baby steps. You will feel more confident about yourself by achieving baby steps rather than feeling like a failure to yourself by not making the 20 pounds in the month. Also when setting goals include your exercise time, maybe what type of food youíre going to avoid then write them down and give yourself a reward. Something as simple as a new book, treating yourself to a movie. This type of thing gives you something to work toward.

During our time in Healthy Kids we all have been on the Healthy Kids plan since my starting. Along with my weight loss my mom has lost almost 35 pounds and my dad has went down some too, heís not as strict on himself as my mom and I are, heís a roofer and works outside in the heat and cold everyday. So he needs his strength.

During all of the of the office visits, group therapy and exercise time I have not only learned how to eat properly but I have gained more than I would have ever thought. I have made new friends, Hannah and Ambrosia along with the wonderful staff at Healthy Kids. They are all such an encouragement to me and my family. When I am down they all know how to push me along.

My hope is to have my story help someone else along.