The eScale is a specially-designed digital scale, which connects to your computer and automatically sends your weight value to your personal weight chart on this website (to see a sample chart click here). If you later decide not to use it with your computer, it's a great regular scale, as well (very accurate, has several features, memory, BMI, etc).

You can sign up for a free weight chart, using your eScale, in the eCare Area on the home page of this site. Your doctor, dietitian, or personal trainer can also see your chart, if you wish, and post supportive messages to you in your personal eRoom. This is a great way for health professionals or personal trainers to support their patients/clients in losing weight.

The eScale saves you time. You do not have to type in your weight each time your post your weight, and typing errors are avoided. The eScale may help you to lose weight by providing you with electronic "accountability". The weight is always your true weight (it keeps you honest... lol.).

The eScale cabled model has a weight capacity of 450 pounds / 200 kilograms. The wireless model has a capacity of 500 pounds. To order an eScale click here.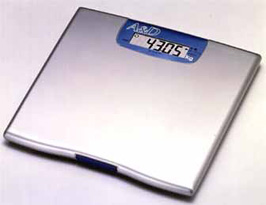 The eScale comes in a cable
model (above) and a wireless model (below).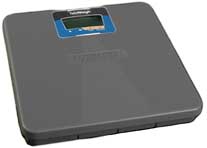 When your eScale sends your weight to your chart, you can also send comments along with your weight values. If your healthcare provider or personal trainer wishes to follow your weight control progress, they can see your weights and comments and post supportive messages and suggestions in your personal eRoom on this site (using a password).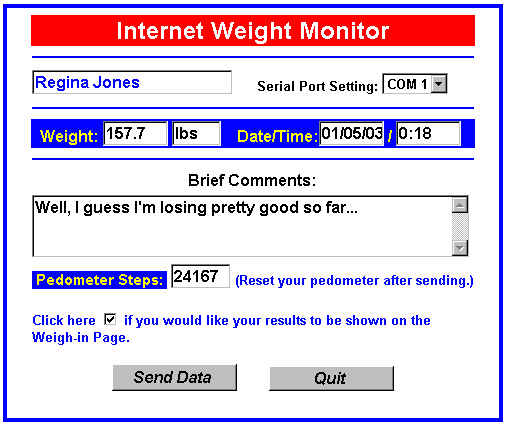 A pedometer (shown at right) can be a useful addition to a weight loss program. A pedometer records how many steps you walk and is worn on your belt like a pager. You can have a goal of a certain number of steps per day (many programs recommend 10,000 steps per day). When you send your eScale reading you can also enter your pedometer reading in the pedometer text box (see above), The average number of steps per day you have walked since your last weight posting will be computed and appear on your chart.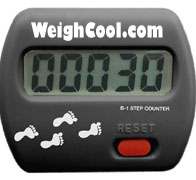 To order a WeighCool pedometer (as shown above) click here.
To order another brand pedometer click here.
The eScale requires a level surface. Plastic feet are included, which allow the eScale to be used on carpet. There is also a one foot square floor plate available for deep shag carpet.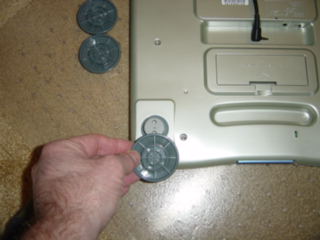 Requirements: The eScale requires a PC running Windows 95, 98, 2000, or XP, and Internet Explorer 4.0 or later, Netscape 6.0 or later, AOL, or MSN. It also will work with MacIntosh computers running OS10 or later. The eScale requires one available serial port or USB port on your computer.
For a limited time the eScale is available at a special introductory price of $122.50 (U.S.).
To order an eScale click here.
(Back to top of page)