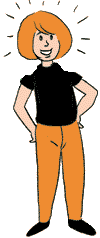 You may have read Lucy's Story on this site. When Lucy was a teen she lost a lot of weight by cutting in half whatever she ate, choosing healthy foods, and doing fun active stuff. After being successful at weight loss, Lucy decided that she wanted to help other kids to lose weight and be healthy, too. She went to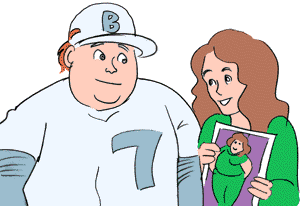 college and studied nutrition. Now she is a Registered Dietitian!

Ashlie RN also helps with the chat. Ashlie was Lawrence's girlfriend, who used to be overweight, helped Lawrence to lose weight, and later became a nurse and helps kids lose weight.

Every Wednesday, either Lucy or Ashlie is in the new chatroom, from 7 pm to 8 pm ET (East coast USA time) 1900-2000 hrs. This is 6 PM central time, 5 PM mountain time, and 4 PM west coast time, and 12 midnight UK time, 1 AM European time, and 9 AM in Australia (Brisbane). Click here for a World Time Converter. You can get to the new chatroom from either the Teens Area or the PreTeens Area, or by the link at the bottom of the home page. Note: Lucy and Ashlie are not able to engage in private conversations in the chat room.

Here are typical chat topics:

Parents! - Do your parents nag you about your weight and yet refuse to help you lose weight? This chat will talk about the struggles with dealing with parents and what you can do about it.

Exercising on School Days - Days are busier if you are back in school. Come to the chat room to discuss how to fit exercise into your busy day.

Bullying and Teasing - Being overweight is tough enough! Why do some people like to pick on larger people? Why does it hurt our weight loss too? Come chat about this topic. Talking about it can help support each other to bring each other strength.

Cravings - What is the difference between cravings and hunger? Which foods do you crave? How can you deal with cravings?

Halloween and Holidays - Mars, Milky Way, M&Ms...oh my! Learn how to deal with special days and holidays, including food choices, stress, and weight management.

Setting Goals. - How can setting goals help in your struggle to obtain a healthy weight?

Surviving Stress without Food - Food is commonly used to as "stress coping mechanism". Unfortunately, if done excessively, overweight is the result, which generates more stress and a vicious cycle of more overeating. Find out how to relieve stress without using food.

To see a list of past Lucy Chat topics click here.

If you have a topic for Lucy to chat about, please send it to Lucy by clicking here.

The time again is 7 pm to 8 pm EST (East coast USA time) in the new chatroom. Click here for a World Time Converter.

Note: Lucy is a fictional character, although the character is based on fact. Lucy can not provide medical advice. Please consult with your healthcare provider as to whether you need to lose weight and how to do so. And please read our disclaimer.